Trophy hunting at Okosongoro

Since 1974, we have offered our guests a unique and personal trophy hunting experience in Namibia. The  variety  of landscape,  homely surroundings  and richness of wildlife makes our farm particularly attractive; an adventurous yet comfortable and cozy home-away-from-home for hunters and guests alike.
What makes Okosongoro stand out above the rest?
Our abundance of game provides every single guest with daily opportunities to view and enjoy the splendid variety of wildlife, birds and nature that this farm has to offer.
Okosongoro is truly a paradise for both hunters and nature lovers. With more than 35 species of game and a rich bird life, guests will discover a exclusive hunting area spanning 19.000 hectares.  As a result, changing between farms during hunting safaris is unnecessary, while excursions outside the hunting area – for example to Swakopmund and Etosha National Park, or to the Erongo with its Bushmen and much more – are gladly organized for you.
Peter Clausen is a farmer and professional hunter who has discovered a great passion for game farming, an occupation which he carries out with scientific accuracy.
Through selective hunting, the quality of game is outstanding and the game populations are exemplary,  optimising the health of each species as well as the environment.  Our hunting methods offer tracking on foot and occasional use of  blinds. Hunting of caged animals (canned hunting) and the use of feed to attract animals is not permitted. It is very important to us that we hunt mature trophy animals in order  to encourage sustainability of game herds.
Our hunters and bow hunters can look forward to the tradition of 'Weidmannsheil' as there are no extra costs for above-average trophies. Furthermore, during your hunting safari there will be no other hunters on Okosongoro, which means that you will receive a highly personalized and  exclusive hunting experience.
The hunting season in Namibia lasts from the beginning of February until the end of November. Due to occasional rain, we recommend hunting on Okosongoro from the middle of March onward; however hunting possibilities are excellent throughout the hunting season.
Game species
More than 35 species of game leave their tracks on Okosongoro, amongst them Kudu, Oryx, Warthog, Eland, Hartebeest, Zebra, Gnu, Springbok, Impala, Steinbok, Duiker (Common), Dik-Dik, Sable, Roan, Tsessebe, Nyala, Lechwe, Giraffe, Hippo and many more including Leopard, Cheetah, Caracal, Serval, African Wildcat , Brown Hyena and Jackal.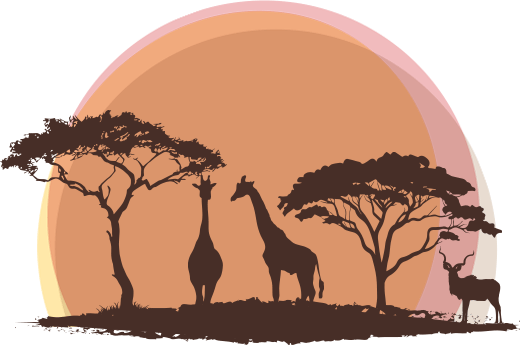 Weapons and Ammunition

For successful hunting, we recommend that you book a safari of at least seven days of which five days are hunting days. Bringing weapons into Namibia is a straightforward process: hunters must declare their weapon when they arrive at the airport and show the relevant ownership documents. A maximum of 80 rounds of ammunition is allowed per caliber/weapon. We recommend that you bring your own weapon of 7×64 caliber upwards. Two weapons are available for rental, should you require them: one  30-06 and one 8 x 68 S. Heavy weapons have proven themselves to be useful in this environment  and are recommended.
Furthermore, our professional hunters, hunting guides and trackers do their best to  offer a great and successful  hunt for you.

Please note that the bringing of handguns into Namibia is prohibited.